About
Dream™
The Dream™ system, which stands for Data Request Easy Access Management, is a centralized electronic Docket Management system specifically designed for regulated utilities. It provides a platform for all parties involved in the regulatory filing process, i.e. managers, corporate staff, legal counsel and consultants, to efficiently collaborate on formulating appropriate responses and streamlining the response process. The Dream™ system dramatically reduces time to deliver responses for litigation cases while increasing accuracy and consistency. Using the Dream™ system significantly improves regulatory data management by giving managers the necessary control and oversight in the preparation of regulatory filings.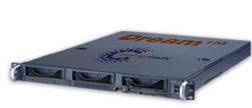 The Dream™ system creates a comprehensive data repository that is fully searchable. Data entered by all parties to the regulatory process is indexed for easy retrieval. Finding what you are looking for in the massive amount of information prepared during regulatory proceedings has never been easier.
Why Dream™ System?
The Dream™ System is a powerful management tool:
It provides real-time progress reports of regulatory filings.

A centralized system allows for easier management and tracking of data request responses, and retrieval of all regulatory filings.
The Dream™ System is easy to use:
Users can be trained in hours, not days or weeks.

System administrators can be trained in less than two days.

Can be accessed securely on company's network or over the Internet.
The Dream™ System is cost efficient:
Ease of deployment, maintenance and training keeps system cost at the lowest levels possible.

Ability to allow third party access to certain portions of the system facilitates collaboration and reduces costs.

Fully searchable data entries and document attachments reduce costs of storage and retrieval of historical filings.
The Dream™ System is easy to deploy and maintain:
The Dream™ system can be used as a web service over the Internet, or as a product installed on your company's existing network.

It does not necessitate any installation on the user side, ensuring low installation and maintenance costs.

Third parties can be allowed to use the system externally with appropriate security measures.
The Dream™ System is fully scalable:
The Dream™ system can easily accommodate over 1,000 users.

The system can be installed on a single server or multiple servers to attain desired performance criteria.

Its storage capacity is only limited by the client needs.